Shared Archiving Austria meeting during the "34th Österreichischer Bibliothekartag" (Austrian Librarians' Conference) will take place at University of Graz on Tuesday, September 10th 2019 (10:00 AM – 1:00 PM).
Meeting room: Room 11.11 (8010 Heinrichstrasse 36, 1st floor)
Agenda (in German):
Begrüßung, Tagesordnung, Statusbericht
Kurzbericht: Umsetzung des Katalogisierungsschemas – vollzogene Implementierung in ZDB – Umsetzung im PRIMO-Verbund (Testsystem)
Ablauf American Chemical Society (ACS)
Ablauf Institute of Physics (IOP)
Vorschlag der UBWUW: American Economic Association
Sammlung und Diskussion weiterer Archivierungsvorschläge
Allfälliges
——
Relaunch Meeting of Shared Archiving Austria will take place at Vienna University Library on Tuesday, March 12th 2019 (10:00 AM – 4:00 PM).
Meeting room: Kleines Kurszimmer (1010 Universitätsring 1, 1st floor)
Agenda (in German):
Begrüßung, Tagesordnung, Statusbericht
Metadaten: Neue Lösung zur Eingabe im Bibliothekssystem und Anzeige in Discovery-Systemen bzw OPACs
Präsentation Shared Archiving Austria-Wiki als Informationsdrehscheibe
Nächste Archivierungsprojekte (American Chemical Society, Institute of Physics, etwaige andere Vorschläge), weiteres Vorgehen
Allfälliges
——
Shared Archiving Austria participated in the 5th EPICo meeting in Basel on March 12th/13th 2018. Topics discussed emphasized on the idea of an international metadata model for archiving libraries / initiatives, for the sustainability of archived items and on EPICo becoming the umbrella committee for organizing the traditional so-called Kuopio Conference in the future.
Having said that, the subsequent 6th Kuopio Conference at the Basel University Library includes a presentation by Brigitte Kromp and Wolfgang Mayer on Thursday 15th based on their book chapter in the newly published De Gruyter book:
"Repositories for Print. Strategies for Access, Preservation and Democracy".
The book is being presented officially during the conference.
——
Shared Archiving Austria Representatives' Meeting
The first national meeting of members' representatives of Shared Archiving Austria will take place during the ODOK in Eisenstadt (Wednesday, Sep 28th 2016, 4:00-5:30 PM).
Topics will include:
status of project and infrastructure (website, wiki)
participation in the international cooperation EPICo
implementation of the Austrian Archive Holdings withing ALEPH and PRIMO
current archiving project ACM – Association for Computing Machinery
start of execution of projects ACS – American Chemical Society (former pilot project) and IOP – Institute of Physics
next steps, suggestions for further products to archive

miscellaneous
—–
Shared Archiving Austria participation at Symposium "Sharing is Caring"
On September 22nd University Library Mainz and University Library Gießen jointly organised a symposium named "Sharing is Caring" covering (collaborative) archiving initiatives (http://www.ub.uni-mainz.de/sharing-is-caring/).
Approximately 80 attendees from various German libraries followed the invitation and got the chance to hear about various projects and to discuss the current situation in Germany. The symposium was chaired by library directors Andreas Brandtner (Mainz) and Peter Reuter (Gießen).
Dorothea Sommer (Bavarian State Library) started the talks with an overview about important
European projects, in fact describing all of the founding members of EPICo and citing EPICo's mission statement.
Brigitte Kromp and Wolfgang Mayer (Vienna University Library) presented the Shared Archiving Austria initiative and informed about EPICo's current status, goals and activities.
Daniel Tschirren (ZHB Luzern) followed with detailed information about the Kooperative Speicherbibliothek Schweiz and its economic model.
Then Corinna Roeder (State Library Oldenburg) gave a critical statement about incomplete legal regulations regarding discarding library holdings at German libraries and the necessity to coordinate those activities more efficiently.
Finally Olaf Eigenbrodt (Hamburg State and University Library) and Robert Zepf (University Library Rostock) presented the plan for a collaborative archiving concept for Northern German libraries with considerable similarities to the Austrian project.
Publication of the five presentations is planned for a coming issue of the German library science journal ABI Technik (De Gruyter; http://www.degruyter.com/view/j/abitech) in 2017.
———
In November 2015, representatives from seven European Print programmes attended a workshop to discuss and identify collaborative opportunities. The event, co-organised by Shared Archiving Austria and UKRR, was attended by delegates from CTLes (France), GEPA CBUC (Catalonia), the National Repository Library (Finland), the Repository Library of Norway, and ZHB Luzern (Switzerland).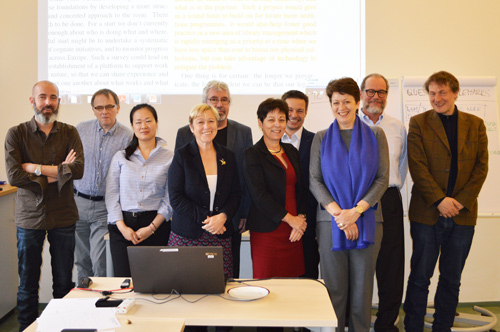 l to r: Santi Balagué, Jonny Edvardsen, Daryl Yang, Deborah Shorley, Pentti Vattulainen, Brigitte Kromp, Wolfgang Mayer, Eva Ramminger (moderator), Ulrich Niederer, Jean-Louis Baraggioli
A wide range of topics were covered on the day, from challenges and opportunities on a European level to specific collaborative ideas and plans that aim to turn talks into actions.
The following mission statement was drafted:
"We believe that a comprehensive and robust research and information infrastructure is essential for Europe's wellbeing, now and in the future.
We are concerned that, at a time of unprecedented change in the ways information is collected, stored and disseminated, there is a real danger that some of the important printed resources in our European libraries may be at risk.
In view of this we intend to initiate a number of plans."
After this first event the group met again in May 2016 at the BULAC in Paris. During this event an official name for the collaboration was formulated. The members agreed upon
EPICo : European Print Initiatives Collaboration
The group prioritized two main tasks for the near future:
to build a database of archiving projects based on a questionnaire. A first look is available here: http://www.varastokirjasto.fi/prw/
to provide an overview of methods how to calculate saving and create a list of assessment and performance indicators
The following additional action points were set: contact and invite other European initiatives, improve and feed the network wiki started by GEPA, start planning a database for archived print journals, explore possible links between print and electronic archiving.
The next meeting will take place in Helsinki, November 2016.